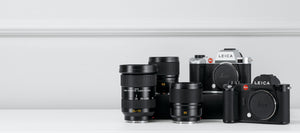 SL2 Bundle
---
Discover Leica's unique quality and experience a new photographic pleasure at an unbeatable value. Now through January 31st, 2024, you can activate and redeem a

IDR 23,500,000

voucher valid on the purchase of selected Leica SL2 kits. 
To access this limited-time opportunity, please create or log into your Leica Account and activate your voucher worth IDR 23,500,000.
The Leica SL-System allows you to fulfill your creative vision thanks to Leica's signature optical designs showcased in SL lenses - all developed and produced with the highest quality standards in mind. 
Benefit from the broadest choice to build an individual system thanks to the compatibility with all Leica M, Leica R, and Leica TL lenses, with all L-Mountlenses, and with the outstanding Leitz Cine lenses. The 47-megapixel sensor of the Leica SL2, with image stabilization and 14 stops dynamic range, effortlessly reveals subtleties that might be challenging to see with the naked eye.

The Leica SL2 camera will guarantee you a timeless, crafted in Germany body with perfect haptics and the unique Leica image quality and look.
Activate your Leica voucher and key in your voucher code at checkout to save

IDR 23,500,000

on these kits.